Primer


Proportion


Shading & Texture


Construction


Drawing the Male Figure
The handling of texture in the male figure varies from the female figure in a variety of ways. Most of these are generalizations based on the average male or female model and on general observations from art history. Males tend to be wider and larger, their muscularity is often more apparent, and the appearance of facial hair is common.
When drawing the male, lines are often drawn with more of an angularity and harshness. In design the terms masculine and feminine are used to describe the character of a form. A feminine form often has soft flowing and rounded lines, where a masculine form is usually angular, rough and hard-edged. Cars, for example, either have rounded flowing lines like a Jaguar (feminine) or hard sharp edges like a Jeep (masculine). Look at this example by Christian Schussele named Promethius Bound. In this example, Schussele handles the drawing material in an agitated and harsh way. In much of Western art history, the male is portrayed in a much harsher way than the female figure.
When drawing, one may want to handle the charcoal or pencil in a more physical way. Pressing down harder, erasing with more gusto, and making more errant marks can communicate a more masculine form. Remember that this is a visual generalization and it may be just as appropriate to handle the male figure in a softer way depending on the context from which you are working.
Questions or comments can be forwarded to Ralph Larmann at the University of Evansville.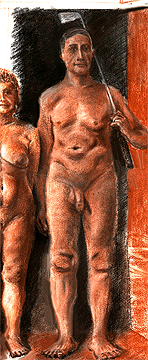 This drawing, Golf, shows a standing male (and companion). Notice that many of the muscles protrude especially in the stomach and chest.
Drawing by Ralph Larmann 1999.