Primer


Proportion


Shading & Texture


Construction


Perspective Applied to the Figure
Foreshortening is the process of applying linear perspective to the figure. It is a way to create great depth and drama to a drawing. In the example at the upper right of this page, the figure is being viewed from an oblique angle. We are generally looking down from above. There is great differences in the size of elements in this figure, for instance, the right foot is dramatically smaller then the right hand. The arms are also portrayed much larger than the legs.
Normal ideal measurements may not seem correct in this type of drawing. One excellent tool is the pencil. One can find the placement of the shoulders, feet, hands, etc... by aligning them along a vertical or horizontal axis. For instance the right elbow (top of illustration) aligns with the left foot which is directly below.
One often-used example is Andrea Mantegna's Dead Christ. This 15th Century work is one of the first good examples of foreshortening.
Questions or comments can be forwarded to Ralph Larmann at the University of Evansville.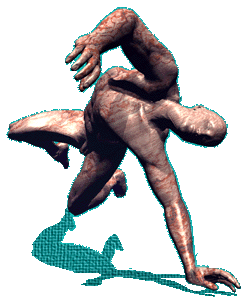 This foreshortened figure shows the effects of distance on the figure. This type of viewpoint can add more excitement and interest to a figure drawing.