Primer


Proportion


Shading & Texture


Construction


Constructing the Figure from Geometric Objects
The figure seems like a fairly complex and daunting form to draw. The way that one can overcome this challenge is to break down the figure into simple units and rearrange them to emulate movement. In the illustration on the upper right of this page, there is a three-dimensional mannequin which is made up of rounded cylinders, elipsoids, and spheres at the joints. Notice that all the parts use chiaroscuro, there is a smooth texture to the form, and the figure only bends at the joints. This emulates the movements of the human figure.
Try imagining all the limbs of the body as cylinders. Start with a simple line drawing of that collection of cylinders, spheres, and elipsoids. As you are building the understructure pay attention to the proportions of the model you are working from.
This kind of geometric study can help in the initial layout of a figure. It is best to use a light line drawing, then work in the final figure on top. Hold back on the chiaroscuro until the finishing stages. Soften edges with a kneaded eraser.
The head of this mannequin is used on the applied chiaroscuro page.
Questions or comments can be forwarded to Ralph Larmann at the University of Evansville.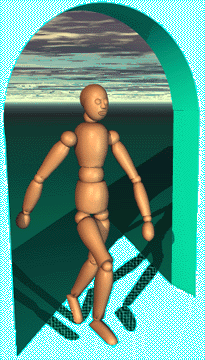 This illustration shows a model of the human figure which has been broken down into spheres, cylinders, and elipsoids.