Primer


Proportion


Shading & Texture


Construction


Textures on the Figure
Texture gives the figure a vitality that creates visual interest. The skin has changing color and texture. Look at the skin on the palm of your hands and then look at the texture on your arm. You'll notice the difference between the graininess of your palm and the relative smoothness of the skin on the inside of the arm. Different textures will use chiaroscuro differently, too. Slick surfaces, like the eye, has a much glossier surface and will have a distinct hightlight. The skin will be more matte in texture and will not have a distinct highlight.
The hair has attributes which accentuate portions of the figure. It acts as a frame for the face and the unique uneven quality creates great contrast with the skin and eyes. The best way to draw the hair is not by doing each individual strand, but to think of it as an undulating surface. The hair has highlights which cover broad areas, depending on the location of the light source. Color and value can help to make the hair distinctive.
If you look carefully at the hair of Durer's Young Venetian Woman, it is apparent that he was approaching hair as a surface, not as individual units. He highlights the side closest to the light source and shadows the planes away from the same source.
Questions or comments can be forwarded to Ralph Larmann at the University of Evansville.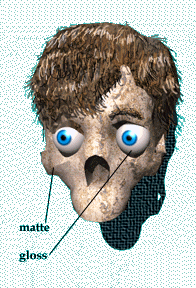 This illustration shows several different textures that may occur when drawing the figure.
Another good page on textures is at the Art Studio Chalkboard web site.